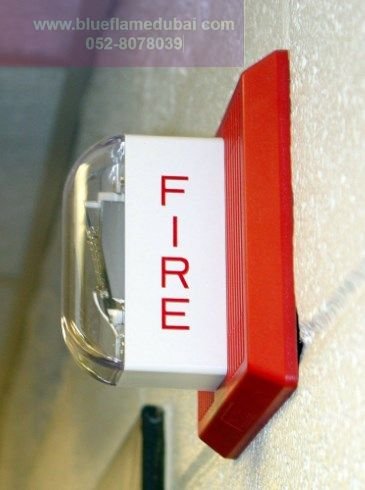 Fire Alarm System
A fire alarm is an electronic sounder or a bell , alarm notify people by making a loud, high pitched sound when there is a fire in the building. The sounders can be programmed to give a sound of different tones. The bell in fire alarm makes a continuous ringing sound.
A fire alarm system working takes places with the combination of number of devices, to detect and warn people through audio and visual appliances when , fire, smoke, carbon monoxide or other emergencies occur. These alarms may be activated automatically from heat detectors and smoke detectors, or it can also be activated through manual fire pull stations or manual call points Else Alarms can be either wall mountable sounders, horns or motorized bells and they can also be speakers which sound an alarm and even ordering people not to use any elevators in the building.

If you need fire alarm services in Dubai,Sharjah, Abu Dhabi, UAE call us at +971528078039 or contact us online!
Fire Alarm Installation in Dubai, UAE
Blue Flame Firefighting professional fire engineers and technicians provide, design,installation, training and programming of fire alarm systems and automatic detection for a wide variety of standard systems and special hazard systems. We provide the best possible service at reasonable cost to all of our customers, right from the start to finish.call us +971528078039
Fire Alarm Inspection & Repair in Dubai, UAE
Fire alarm systems consist of heat detectors and smoke detectors placed on the walls or ceilings. A main fire alarm control panel is placed on the building to interface all fire alarm devices. Every component of the fire alarm system is technically tested to make sure
all components are in good working condition. This includes all of the fire alarm system components like alert/alarm methods and also the main alarm panel, smoke and heat detectors, manual pull stations, (strobes and horns), duct detectors and annunciator panels, and any communications sub-panels as well as battery backup supplies.
Blue Flame Fire fighting offer rs trouble shooting and repair of fire alarm components and circuit boards. Our experienced technical staff will quickly find any technical problem at the time of fire alarm inspection and find the answer to the technical problem and have it fixed as quickly as possible.
Why Are Fire Alarm System Inspections Important?
One of the most important systems you can install in your Dubai, Sharjah,Abu Dhabi, UAE building is a fire alarm and fire alarm system is the convenient way to alert your employees and companions when there is a fire risk so that they can be quickly saved from any fire risk. Ensure your fire system works properly at all times by keeping your fire alarm system up to code. In order to ensure your fire alarm system works properly in case of emergency, annual fire alarm inspection is required.
If you need fire alarm services in Dubai,Sharjah, Abu Dhabi, UAE call us at +971528078039 or contact us online!
Blue Flame Firefighting engineers and technicians are ready to support your organization's fire protection systems and its service requests 24 hours a day in Dubai or UAE. Feel free to Call us for more information about emergency exit lighting systems.
Fire Detection and Alarm System
We have wide range of fire detection and fire alarm systems that support all types of buildings and areas.
Conventional Fire alarm Systems
Analog technology is used in conventional systems, which are hardware-based. Zones are used in conventional fire alarm systems. A zone is made up of many devices that link to the main control panel, including both initiating and notification devices. In order to interact with the control panel, Conventional systems use electrical currents. When the ambient conditions (heat or smoke) in the region of the sensor surpass a predefined threshold, alerting devices are intended to drastically raise the current in the circuit (the amount of electricity flowing through the wires). This fluctuation in current is communicated to the control panel, which will trigger the alarm.
Addressable fire alarm Systems
Rather than depending on changes in the electrical current flowing through a circuit in a conventional system, an addressable system uses digital technology to send data from connected devices to the main control panel as binary code – a series of ones and zeros.
The binary code begins as an analog signal generated by voltage fluctuations in the signaling device. A "mini-computer" within an addressable device transforms these variances into binary code.An addressable device can send a broad range of essential information to the control panel, depending on the device and the sorts of information it is meant to communicate.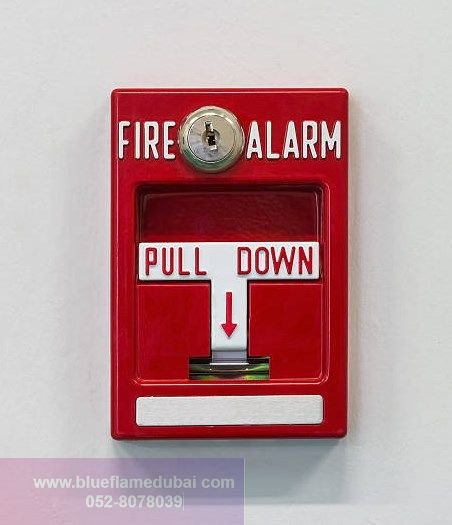 Fire Alarm Inspection in Dubai, UAE Includes
Duct detectors
Thermal detectors
Flow switches
Ground fault detection circuitry
Audible/visual devices
Elevator recall
Load testing of stand by batteries
Tamper switches Inspect control panel
Verifying monitoring connection
Inspecting annunciator
Pull stations
Bells
Door holders
Grounded field wiring
Fire alarm system Components
Voice Evacuation System
Fire Alarm Sounder