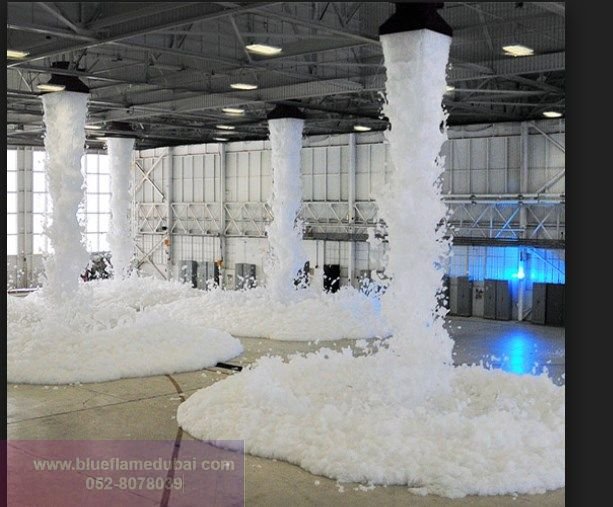 While looking to an effective fire suppresion system,water is not always the best option for putting out the risk of fire. Foam fire suppression systems are important in many areas where water fire suppression and sprinkler systems does not work well to extinguish a fire. Highly flammable areas are always better served with a chemical foam system. So what is the best solution for your buildings to save you from these sorts of highly flammable substances? At Blue Flame Firefighting, we recommend foam fire suppression systems in Dubai
Schedule a consultation for a foam fire suppression system in Dubai, UAE today by calling +971528078039
What is a Foam Fire Suppression System?
A Foam Fire Suppression System is used in firefighting to deliver fire suppressing foam for the purpose of extinguishing a fire or protecting un burned areas. Components of a foam fire suppression system include a water source, tanks, a centrifugal pump, foam concentrate, a direct- injection foam, a mixing chamber or device, proportioning system on the discharge side of the pump, a rotary air compressor and control systems to ensure the correct mixing of concentrate, water, and air. Foam fire suppression systems tend to move in a faster rate, spread longer and reduce flames faster when compared with water, while also preventing re-ignition of fire.
Working of foam Fire Suppression system
While looking to an effective fire suppression system,water is not always the best option for putting out the risk of fire. Foam fire suppression systems are important in many areas where water fire suppression and sprinkler systems does not work well to extinguish a fire. Highly flammable areas are always better served with a chemical foam system. So what is the best solution for your buildings to save you from these sorts of highly flammable substances? At Blue Flame Firefighting,we recommend foam fire suppression systems
Where to Use a Foam Fire Suppression System in Dubai,UAE
Blue Flame Firefighting company in Dubai, UAE provides foam fire suppression system services in almost all sorts of environments. Some of them include:
Commercial kitchens
Airports, Refineries
Jet engine test facilities
Manufacturing plants that deal with flammable substances
Municipal fire departments
Marine facilities
Aircraft hangars
And more
If your Dubai, Sharjah and Abu Dhabi business fits this criteria, to learn more about installing a foam fire suppression system. we are also doing supply and installation of foam fire suppression systems in MENA Region such as Nigeria, Kenya,Tanzania,etc.
At Blue Flame Firefighting, we provide complete foam fire suppression system services, including:
Repair& Maintenance: We make sure your foam suppression system is serviced annually to ensure that your fire system is in total working condition. Our professional engineers will reveal each and every small or large issues with the system and we will repair any problems that arise during our inspection.
Installation& Replacement: Whether you are looking to install a new foam fire suppression system for the first time,or need to replace your currently working fire system, Blue Flame Fire fighting can help you. Each of our engineers and professionally trained technicians is highly experienced in foam suppression system and can answer any queries you may have during the installation process.
Testing: It is necessary to have a technical test or inspection on your foam fire suppression system professionally to ensure that fire system is effective and ready to operate whenever required. Our engineers can do this inspection with full swing speed and perfection
Schedule your foam fire suppression services in Dubai, UAE with our professionals today!
The best thing about partnering with Blue Flame Fire Firefighting is that we are your complete solution for all fire protection services. Our experienced fire safety engineers and technicians specialize in every aspects of fire protection, including:
Fire suppression systems
Fire extinguishers
Sprinkler systems
Commercial kitchen fire suppression
Fire alarm systems
Contained gases
Emergency exit lighting
Andmore!
Are you located in Dubai, Sharjah, Ras AlKhaimah, Abu Dhabi and want to learn more? Call us today to speak with one of our experienced fire safety engineers and discover why business and the government organization consistently recommend Blue Flame Firefighting.
Contact us online or by phone at +971528078039 to schedule your service!