Novec 1230 Fire Suppression System
In the bustling city of Dubai, where safety and innovation converge, the importance of a reliable fire suppression system cannot be overstated. One of the most advanced and eco-friendly solutions available is the Novec 1230 fire suppression system. This cutting-edge technology offers rapid and efficient fire protection without causing harm to the environment or valuable assets.
we specialize in the supply and installation of the Novec 1230 fire suppression system throughout Dubai. Our team of experts is dedicated to ensuring that your premises are equipped with the latest fire protection technology, offering you peace of mind in the face of potential fire risks.
Understanding the Novec 1230 Fire Suppression System
The Novec 1230 fire suppression system employs a revolutionary extinguishing agent known as Novec
1230 fluid. This electrically non-conductive and waterless compound rapidly removes heat energy from
fires, effectively disrupting the combustion process and preventing re-ignition.
Key Benefits of the Novec 1230 System
➢ Swift Suppression: The Novec 1230 system reacts within seconds, swiftly extinguishing fires to
minimize damage and reduce downtime.
➢ Eco-Friendly Approach: Novec 1230 fluid has minimal impact on the ozone layer and a short
atmospheric lifetime, aligning perfectly with Dubai's commitment to sustainability.
➢ Asset Protection: The system's non-corrosive and non-conductive properties make it safe for
sensitive electronic equipment, preserving valuable assets.
➢ Clean and Efficient: Novec 1230 fluid evaporates rapidly without leaving residue, eliminating
cleanup costs and reducing operational disruption.
Call button Get a Quote
➢ Global Recognition: Novec 1230 is approved and certified by international regulatory bodies,
showcasing its safety and effectiveness.
Applications of Novec 1230 in Dubai
The versatility of the Novec 1230 fire suppression system makes it suitable for various applications
across Dubai, including:
▪ Data Centers and IT Facilities
▪ Telecommunication Rooms
▪ Control Rooms
▪ Museums and Archives
▪ Healthcare Facilities
▪ Server Rooms
▪ Laboratories
▪ Art Galleries
Process
➢ Consultation: We begin by understanding your specific fire protection needs. Our experts collaborate closely with you to determine the most suitable application areas for the Novec 1230 system.
➢ Design: Our skilled engineers create a customized fire suppression solution tailored to your premises, ensuring optimal coverage and maximum effectiveness.
➢ Installation: Our trained technicians execute the installation with precision and care, ensuring that the system is seamlessly integrated into your existing infrastructure.
➢ Testing and Commissioning: We rigorously test the system to verify its functionality and adherence to safety standards. This phase ensures that the system is ready to perform when needed.

➢ Ongoing Maintenance: Our commitment doesn't end with installation. We provide regular maintenance and support to ensure the continued efficiency and reliability of your Novec 1230 fire suppression system.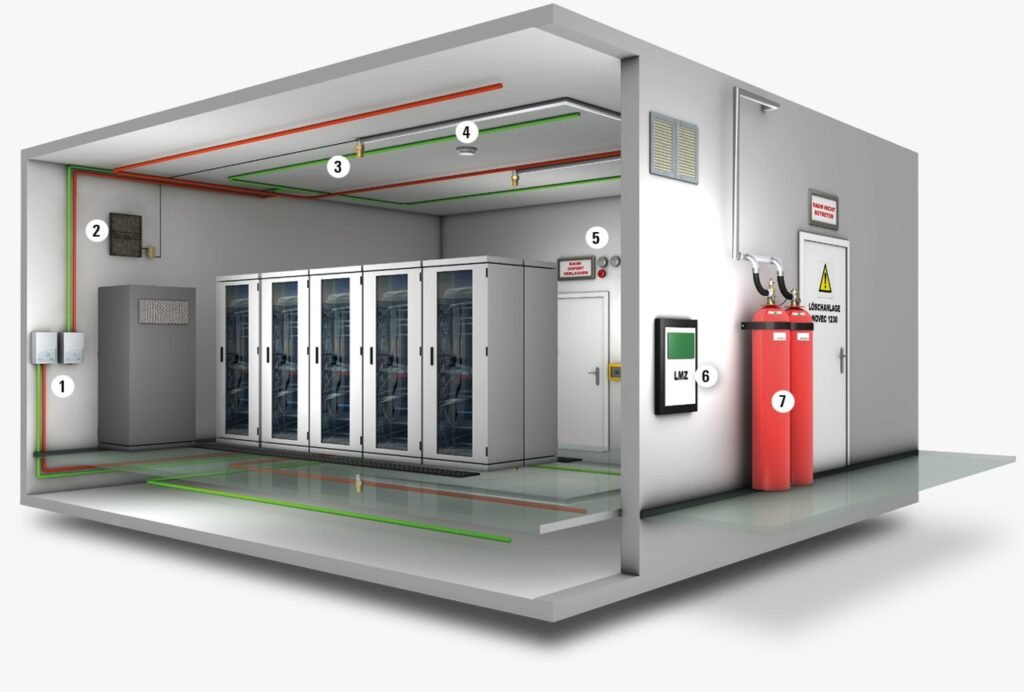 In Dubai's dynamic landscape, where safety and sustainability intersect, the Novec 1230 fire suppression system emerges as a beacon of modern fire protection. With its rapid response, eco-friendly attributes, and international acclaim, this system aligns seamlessly with Dubai's values. At Red Blue Flame Fire safety and Security Systems LLC, we are your partners in safeguarding your assets and premises. With our expertise in the supply,
installation, and maintenance of the Novec 1230 system, we stand by your side to ensure your safety and peace of mind.
The best thing about partnering with Red Blue Flame Fire Safety and Security Systems LLC is that we are your complete solution for all fire protection services. Our experienced fire safety engineers and technicians specialize in every aspects of fire protection,including:
Are you located in Dubai, Sharjah, Ras Al Khaimah, Abu Dhabi and want to learn more? Call us today to speak with one of our experienced fire safety engineers and discover why business and the government organization consistently recommend Blue Flame Firefighting